Interesting Tengger Tribe's Culture in East Java Province - Indonesia
---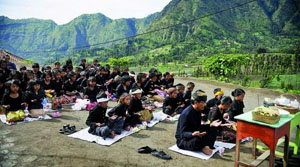 Another charm of Bromo Tengger Semeru Mountain is the presence of local culture belonging to Tengger Tribe of Indonesia. This tribe has been living around Bromo for hundreds of years and considers the mountain as a sacred landscape. Those people live in a traditional way and have retained their culture for decades. As for tourists, visiting the community would provide them with a new experience and unique entertainment when visiting the mountain. Not to mention they have an opportunity to learn approach and learn about them during the vacation.
About Tengger Tribe
When it is about Tengger Tribe, tourists can learn first about the origin of the name. Many references are available regarding this issue, actually. First, the name has the meaning of a stand-up. It represents the character of the locals which is sturdy or resilient. The second meaning is related to mountains. It represents the place where those people live. Another meaning of the name of the tribe is the combination of two legendary people called Rara Anteng and Jaka Seger.
About Tengger Tribe's Culture
The best thing tourists can learn about regarding Tengger Tribe is the culture. Here is the most recognizable one. These people conduct an annual ceremony called Yadnya Kasodo. Usually, they conduct the ceremony in a temple located on the top of Bromo Mountain. This tradition has been passed down for generations because they honor the mountain so much. In fact, they consider it as a holy place. These people will hike it during the full moon and carry some offerings which later they would give to Sang Hyang Widhi (the deity). The best thing is that tourists are allowed to either watch or join the ceremony.
As for tourists, the presence of Tengger Tribe becomes a significant reason to visit Bromo Mountain apart from the lush of nature. No wonder, they won't miss the opportunity to visit nearby villagers and spend some time with the tribe. Have no worries. Those people are quite welcoming, so tourists would feel comfortable regardless of the difference of language and culture. As for the tip, it is better to hire a local who acts as both an interpreter and guide.
The next important thing about Tengger Tribe's Culture is related to their daily activities. Those people are known for their high tolerance and hardworking, actually. They are aware of their responsibilities, especially farming. Next, it is about their adaptive characteristic. Just because they always retain their local traditions intact, doesn't mean they are ignorant regarding the development of modern society. For instance, they are open to differences, especially when some foreigners or tourists come to their village.
Nearby Attractions
Ranu Regulo Lake
Sedaer River
B29 Peak
How to Get There
As mentioned before, Tengger Tribe lives in the highland or nearby sites around Bromo Mountain Indonesia. How can tourists meet them, actually? For those coming from Lumajang City, the destination is Bromo Tengger Semeru National Park Indonesia. The distance is 83 km, so the trip would take about 3 hours. The simplest thing to do is to hire a tour agency as they are able to arrange the trip in a professional manner. Where to Stay
Jiwa Jawa Bromo
Sion View Hotel
Adas Hotel

Latest News
Meru Betiri National Park Meru Betiri is a national park area that covers mangrove, swamp forest and lowland rain forest in Java, which is located in the administrative region of Jember and Banyuwangi. Meru Betiri forest was originally existed as … Continue reading →
---
In addition having the enchanting beaches, Pacitan Regency is also has lines of beautiful Mountains that cannot be missed. One of those mountains are Gunung Lanang. Mt Lanang is located in Punjung Village, Kebonangung sub-district, about 20 Km to the … Continue reading →
---
Kalimas traditional seaport is located at the east of Kalimas River, lies about 10 kilometers to the west of Kenjeran beach. Kalimas is a living history of Surabaya's maritime heritage where carts and human toil continue to load and unload … Continue reading →
---
  Bentar Indah Beach Bentar Indah beach located at Gending district, in the side road of Surabaya – Banyuwangi, 7 km from the east to Probolinggo. Bentar Indah beach is the way to Bali – Surabaya – Yogyakarta – Jakarta, … Continue reading →
---